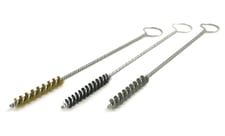 Tube brushes are industrial brushing tools for cleaning the inside of holes and other hard-to-reach areas. Applications include removing chips, dirt, oil, rust, and corrosion. Filament types vary, but include stainless steel, carbon steel, brass, nylon, and natural bristle.
Brush Research Manufacturing (BRM) supplies many different types of tube brushes, but Series 84 tools are a great choice for cleaning through-holes. These ring-handled brushes are built for manual use, but the rings can be cut-off to allow these tube brushes to be power-driven.
No matter how you use them, Series 84 tube brushes get strong results when you follow these three tips.
1. Size Up Your Options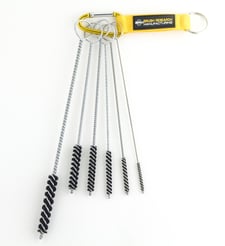 As The Use of Industrial Brushes explains, tube brushes work best when they're properly-sized for the holes that they need to clean. Because the tips of the filaments provide the cutting action, you don't need a brush diameter that's super-sized. You don't need an excessively long brush part either. An overly long brush part can create significant friction, which makes through-hole cleaning more difficult.
While sizing up your Series 84 options, it's also important to understand how tube brush measurements are specified. A tool that's described as 2x4x8 has a 2" diameter, a 4" long brush part, and an overall length of 8". Tube brushes carry product specifications for filament size, too.
2. Choose the Best Bristle
Series 84 tube brushes come in a choice of filament or bristle materials. Consider the following points if you need help deciding whether to choose stainless steel, carbon steel, brass, nylon, or natural bristle.
Stainless steel tube brushes tend to work-harder quickly. The stem wire becomes extremely hard, but is relatively flexible.
Carbon steel tube brushes offer excellent cutting action and fatigue resistance.
Brass brushes are softer than stainless steel and are a good choice for applications where you don't want to scratch the surface.
Nylon tube brushes can withstand most cleaning solvents and mild acids. The tips of these tube brushes tend to become sharp after extended use, which cuts their cleaning power.
Natural bristle tube brushes won't scratch surfaces and are recommended for very fine and delicate work. They're great for removing dust and won't pick up and carry static electricity.
3. Buy Cost-Effective Kits
BRM supplies Series 84 tube brushes individually and in cost-effective kits. Each kit is lettered and comes with a carbiner for easy storage and handling.
Kit A contains brushes for holes 1/8", 3/16", 1/4", 5/16", 3/8", and 7/16".
Kit B is contains brushes for holes 1/2", 9/16", 5/8", 3/4", 7/8", and 1".
Kit C is for brushes for holes 1-1/8", 1-1/4", 1-3/8", 1-1/2", 1-5/8", and 1-3/4".
For more information, download the Six-Piece Tube Brush Kits Brochure.