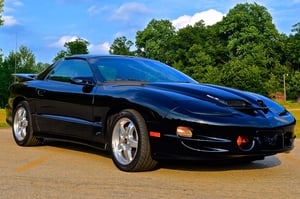 The Pontiac Firebird Trans Am was an iconic muscle car with a reputation for speed and flair. In 2002, the Trans Am's final year of production, Pontiac powered its pony car with an 8-cylinder, 16-valve, 5.7-liter, 347-cubic inch engine called the LS1.
Even today, restoring this all-aluminum engine block is a labor of love. As ls1tech.com, an automotive website, a mechanic shared a story that's familiar to many do-it-yourselfers (DIYers). For surface finishing cylinder walls, there's no substitute for BRM Flex-Hone® tools.
Rigid Hones vs. Flexible Hones
Engines with cylinders that are out-of-round require geometry corrections. Rigid hones are the right choice for cylinder resizing, but honing stones won't impart the ideal surface finish. As the engine builder from ls1tech.com discovered, prior machining operations can leave behind cut, torn, and folded metal. These surface irregularities can interfere with piston ring seating and sealing.
The DIYer asked a shop to machine the block but insisted on re-assembling the engine himself. "I had too much energy and money invested to trust that process to someone else," he explained. The mechanic also trusted BRM Flex-Hone® tools for deburring and surface finishing. By smoothing the jagged peaks and imparting a uniform series of oil-retaining valleys, flexible honing created what's known as a plateau finish.
How Flexible Honing Works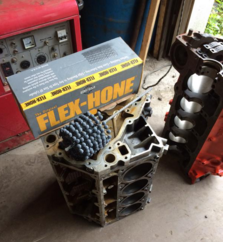 Flex-Hone® tools have abrasive globules or balls that are permanently laminated to flexible nylon filaments. This unique construction helps make BRM's flexible hones self-centering, self-aligning to the bore, and self-compensating for wear. To produce a soft cutting action, Flex-Hone® tools are always used in a slightly oversized condition. In other words, the tool diameter is slightly larger than the bore size.
For engine rebuilds, mechanics like the DIYer from ls1tech.com can chuck the Flex-Hone® tool in a handheld electric drill. BRM's engine hones require lubrication, and it's important to understand that the Flex-Hone® is a low RPM tool. The Flex-Hone® Resource Guide provides operating parameters and information about abrasive types. For aluminum blocks like the LS1, aluminum oxide (AO) abrasive is used.
The Flex-Hone® Resource Guide also explains which grit size to choose. If the starting surface finish is rough, BRM recommends beginning with a coarser-grit tool and then using a finer-grit tool. Enter the bore with the Flex-Hone® spinning in a clockwise direction but stroke the bore in counterclockwise direction, too. Wash the cylinder walls with hot or warm soap water, wipe them clean, and apply a lubricant. By following these and other best practices, you can achieve a cylinder wall surface finish like the Trans Am mechanic from ls1tech.com
Get Ready for Your Next Engine Rebuild
Are you ready to learn more about flexible honing for engine rebuilds? This YouTube video shows how to use Flex-Hone® tools with a handheld electric drill. For complete information about choosing and using BRM's ball hones, get the Flex-Hone® Resource Guide.