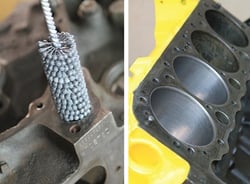 In the movie "Gone in 60 Seconds", a master car thief returns to Southern California to steal 50 vehicles in 96 hours. In a YouTube video from Brush Research Manufacturing (BRM), employees at the Los Angeles company rebuild a Chevy 350 engine in just 30 seconds.
BRM's time-elapsed video isn't a Hollywood blockbuster, but the manufacturer's engine tools are automotive superstars. The BRM employees you'll see don't rebuild engines for a living, but they mastered multiple engine maintenance and cleaning tasks thanks to Flex-Hone® tools and automotive brushes.
Flex-Hone® Tools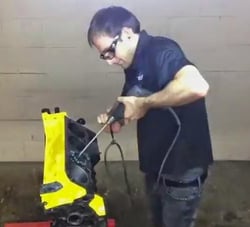 BRM Flex-Hone tools feature abrasive globules or balls that are permanently laminated to flexible nylon filaments. These engine hones are self-centering and self-aligning to the bore, and can be used with handheld power tools like the electric drill in the video. BRM ball hones are also self-compensating for wear, which means the abrasive you need is always at the outermost edge of the tool.
As BRM's 30-Second Engine Rebuild video shows, cylinder wall surface finishing is easy-to-achieve. The plateau finish that flexible honing imparts optimizes lubrication, which is essential to engine performance. Plateau honing also promotes proper piston ring seating and sealing. Automotive applications for ball hones include cylinder wall deglazing and removing burrs from cross-drilled holes.
If you watch the YouTube video carefully, you'll notice that two different kinds of Flex-Hone® tools are used.
BC Series Flex-Hone toolsare small-diameter engine hones that are designed for bores ranging in diameter from 4-mm to 3-in.

GB Series Flex-Hone toolsare designed for bore diameters from 3-1/4" to 4-5/8" inch, and have an overall length of 13-1/2".
Both types of engine hones are proudly Made in the USA.
Automotive Brushes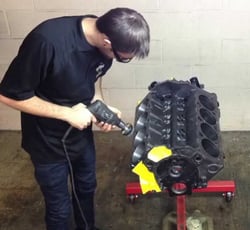 In BRM's YouTube video, copper center wire wheel brushes also play a leading role. These wire wheel brushes are great for removing rust from engine blocks, and are ideal for use with handheld power tools. Unlike some larger-diameter brushing tools, BRM's small-diameter copper center wheels won't push away from the work surface.
As this YouTube video also shows, wire end brushes are great for general block cleaning. These power brushes clean, blend, polish, deburr, and prepare surfaces in small, tight, or hard-to-reach areas. Typically, wire end brushes are used with handheld power tools. BRM's toothbrush-style scratch brushes scratch brushes are also part of the engine rebuild video, and are great for hand deburring, thread cleaning, and rust removal.
Watch, connect, And meetup
BRM's 30-Second Engine Rebuild video moves fast, so hang on for the ride and see as much as you can. Then, if your tradeshow travels take you to SEMA or PRI , connect with BRM at these industry-leading events. To get started, use the buttons below to request a meeting with us.
SEMA 2016 (Booth #10275)
From November 1 to 4, BRM will be at SEMA 2016 in Booth #10275 in Las Vegas, Nevada.
PRI 2016 (Booth #5513)
Then, from December 8 to 10, BRM will be at PRI 2016 n Booth #5513 in Indianapolis, Indiana.
See you there!