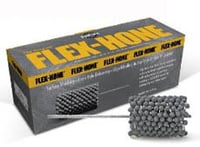 Brush Research Manufacturing (BRM) supplies a full line of metalworking tools to a wide range of industries. BRM's signature product, the Flex-Hone® tool, helps manufacturers to improve part quality and ensure consistency.
By removing burrs and improving surface finish at the same time, Flex-Hone® tools also promote operational efficiency. Flex-Hone® tools don't require any special training or instruction, but part manufacturers need to understand some basics about the tool's features, selection, and use.
Ball Hones and Tool Diameters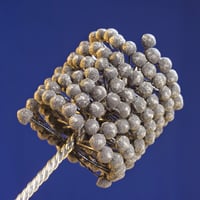 BRM Flex-Hone® tools feature abrasive globules that are permanently laminated to flexible nylon filaments. Known also as ball hones, Flex-Hone® tools remove cut, torn, and folded metal while leaving the base material undisturbed. BRM's flexible cylinder hones impart a substantially flat surface finish, but with a series of oil-retaining grooves for optimum lubrication.
Flex-Hone® tools come in standard diameters ranging from 4-mm to 36". To produce a soft cutting action, ball hones are always used in an oversized condition. This means that a flexible cylinder hone for a 3" bore has a tool diameter that's slightly greater than 3". If the bore size is between two Flex-Hone® sizes, choose and use the larger-diameter tool.
Flex-Hone® tools are also built with a metal stem wire for ready mounting. Manufacturers can use these surface finishing and deburring tools during machine tool applications (on-line), or during secondary operations (off-line). Regardless of how they're used, flexible cylinder hones always require the use of a lubricant. Choose a high-quality honing oil (such as Flex-Hone® oil), or other good-quality lubrication.
Abrasive Types and Grit Sizes
BRM ball hones come in 10 different abrasive types and 11 grit sizes. The base material determines which abrasive to select. The amount of work to perform and the degree of surface improvement to achieve determine the grit size. Flex-Hone® tools are designed for surface improvement rather than material removal, but some applications require the use of progressively finer-grit tools.
Typically, Flex-Hone® tools that use abrasives such as aluminum oxide (AO) and silicon carbide) are used with manufactured parts such as engine cylinders and pneumatic cylinders. In fluid power applications, flexible cylinder hones are used with hydraulic cylinders, ram cylinders, valve bodies, and valve guides. Flex-Hone® tools are also used with the valve housings and pump housings on industrial enclosures.
Diamond Flex-Hone® tools feature diamond abrasive for finishing carbide wear parts, ceramic cylinders, chromed and plated bores, electrical discharge machining (EDM) layers, and guide and drill bushings. Precision-engineered for rapid cut rates, BRM diamond hones offer excellent heat dissipation and are ideal for hard materials such as heat-treated steel, titanium, stainless steel, and space age alloys.
Get the Industrial Applications White Paper
Do you need surface finishing and deburring solutions for parts manufacturing? Would you like to learn more about Flex-Hone® tools for industrial applications? Download this white paper from BRM and get answers to important questions about flexible honing for manufacturing.