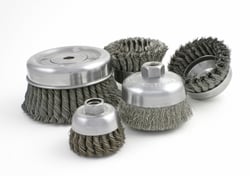 Wire cup brushes are cup-shaped brushing tools with carbon steel or stainless steel filaments. Part manufacturers and machine shops use them for surface preparation, deburring, and surface finishing. Applications include rust, paint, and weld scale removal. Wire cup brushes are used for metal cleaning and edge blending, too.
A type of power brush, wire cups can feature an arbor hole to support their attachment to grinding tools. Different types of wire cups are available, but tool selection isn't just about filament material, which is a function of the workpiece. To choose the right wire cup brush, you'll also need to understand the differences between crimped wire and knotted wire filaments. Brush diameter, wire size, and trim length are important to consider, too.
Crimped Wire vs. Knotted Wire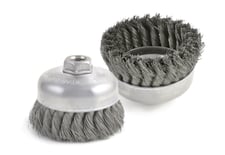 With wire cup brushes, cutting and cleaning occurs at the tool's tips; however, small pieces of wire can break-off during normal metalworking operations. To ensure that these breaks are clean and that sharp, new edges are exposed, wire filaments are crimped. Typically, crimped wire cup brushes are used for lighter-duty operations.
Cup brushes can also have knotted ends to support the tool's tips and to promote more aggressive brushing action. Knotted wire cup brushes are available with single-row, double-row, and cable twist designs. Double-row tools offer extra fast cutting and cleaning over wide areas. Cup brushes with cable twists provide the most aggressive brushing action.
Brush Diameter, Wire Size, and Trim Length
Wire cup brushes are available in a range of tool diameters for surface preparation, deburring, and surface finishing projects. For example, crimped wire cup brushes with an integral shaft come in sizes as small as 1-3/4" to 2-3/4". Crimped cups with an arbor hole are available in sizes ranging from 3" to 6". Knotted wire cups with single and double rows are also available in various diameters up to 6".
Smaller surfaces don't always require smaller tools, so it's important to evaluate all of your surface preparation, deburring, and surface finishing requirements. This includes wire size and trim length. Remember that picking the heaviest wire size is not always the right answer. Also, brushes with shorter trim lengths are more aggressive, but less flexible.
Get the BRM PRoduct Catalog
Now that you understand the basics of wire cup brushes, look for ordering information in the BRM Product Catalog. In addition to part numbers and product specifications, you'll find the maximum safe free speed (MSFS) for each type of wire cup brush. There's information about all of BRM's other products, too.