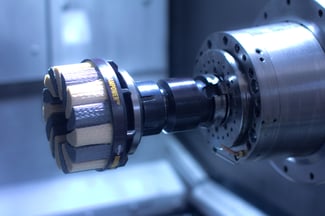 Automated parts deburring isn't just for big companies and high-volume manufacturers. Machine shops and tool makers can also leverage their existing production equipment to improve efficiency, ensure quality, and promote consistency
If you're thinking about automating your surface finishing and deburring operations, you need to know about Orange Vise and Balzano Knives. Both companies use NamPower nylon abrasive brushes from Brush Research Manufacturing (BRM) to support automated operations.
BRM's NamPower disc brushes feature nylon abrasive filaments that work like flexible files, conforming to part contours while wiping and following across part edge sand surfaces. NamPower discs come in different styles and sizes, but they all have one thing in common. You can use them with your existing production equipment to automate parts deburring.
Orange Vise Deburrs Chamfered Edges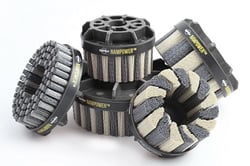 Orange Vise is a machine shop and machine tool manufacturer in Union City, California. Eric Sun, the company's founder, wanted to improve the efficiency of deburring operations. Manual deburring is time-consuming, but machined parts need a high-quality surface finish. At Orange Vise, an employee would inspect a part's chamfered edges and then remove any burrs by hand.
Eric Sun could have chosen other deburring tools, but he selected BRM's NamPower nylon abrasive disc brushes instead. These high-performance brushing tools were easy to integrate with Orange Vise's Mori Seiki, Haas, and other CNC machinery. NamPower technology isn't just faster and more efficient than off-line operations. Through automated deburring, Orange Vise is maximizing its utilization of machine hours.
NamPower abrasive disc brushes come in two different styles: dot and turbine. Orange Vise uses dot-style brushes to deburr highly contoured workpieces and turbine-style brushes for flatter workpieces that require medium-to-heavy deburring. As this video shows, NamPower disc brushes work well with CNC machining centers.
Balzano Knives Deburrs Flat Surfaces
NamPower technology is also helping Paulo Balzano, a professional knife-maker in Los Angeles, to stay sharp in a highly competitive marketplace. Balzano makes and sells knives with clean, straight lines and a distinctive look and feel. High-quality metalworking can be time-consuming, but the right tools can help a skilled craftsman to protect the integrity of his designs while speeding finishing operations.
As this video shows, Paulo Balzano trusts NamPower dot-style brushes. These nylon abrasive brushing tools are designed for light deburring, and can remove secondary burrs created by prior machining operations. NamPower discs work well with Balzano's production equipment, but he also recommends NamPower technology because of the top-notch technical support he's received from BRM.
Get Started with Automated Deburring
Are you ready to learn more about NamPower brushes for automated deburring? Then download the NamPower Resource Guide for complete information about NamPower technology.