The Remington Model 870 is the world's best-selling shotgun. Since 1951, over ten million of these pump-action firearms have been made. For M870 owners, the shotgun that matters most is the one that's held in their hands.
A firearm's look and feel matter, of course, but sleek lines and collectability won't compensate for jamming and failures-to-eject (FTEs). In the woods, at the range, or in the line of duty, it's accuracy and reliability that count. That's why gunsmiths, gun owners, and firearms manufacturers use Flex-Hone® for Firearms tools.
Shotgun Extractor Problems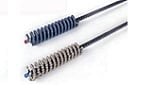 At a website called Reddit, members of the Guns group regularly swap stories about firearms performance and gun maintenance. In a discussion called "This is the worst gun in my collection. What's yours?," several users targeted the Remington Model 870. "It's my worst gun at the moment," said one shooter, "because it doesn't feed right at all." As another Model 870 owner explained, "Mine doesn't extract. The shell gets stuck in the chamber after it has been fired."
Sometimes, problems like these are caused by improper machining of the shotgun chamber. If the chamber's finish isn't smooth enough, brass from fired shells can accumulate in recessed areas. Brass scarring can cause sticking, but poor-quality ammunition can cause fouling, too. If the surface finish of a shotgun barrel contains nicks and scratches, plastic adhesion can occur. To solve these surface finish problems, gun owners use Flex-Hone® for Firearms tools.
Surface Finishing Solutions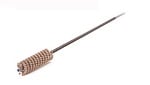 Made in the USA by Brush Research Manufacturing (BRM), the Flex-Hone® for Firearms cleans, finishes, and polishes cylinder walls. BRM gun tools aren't meant to replace gun cleaning brushes, however. Instead, the Flex-Hone® for Firearms is designed for periodic gun maintenance. For shotguns, BRM supplies barrel hones, chamber hones, and forcing cone hones that gently smooth metal surfaces. The resulting finish is more uniform, and resists corrosion and wear while reducing fouling.
Flex-Hone® for Firearms tools don't require special training or instruction. They mount in handheld electric drills and are self-centering, self-aligning to the bore, and self-compensating for wear. As this how-to video explains, the Flex-Hone® for Firearms is a low RPM tool. Always use a high-quality lubricant such as Flex-Hone® oil, and avoid over-honing the cylinder walls. Flex-Hone® Firearms aren't made for heavy-duty material removal. Instead, they keep the bores of your firearms at the precise dimensions required.
Advice from a Shotgun Owner
As a third member of the Reddit Guns group explained, Flex-Hone® technology helped solved a stubborn problem with a Remington Model 870 that wouldn't extract shells. Instead of slamming the gun on the ground (a technique that can damage the shotgun extractor), this shooter tried flexible honing. "What you need to do to fix the root problem," he advised, "is to get that chamber smooth. I purchased a Flex-Hone to get mine done. Now I can shoot the cheap low brass without issue at all."
Find BRM Gun Tools at SHOT Show 2016 (Booth #1617)
Are you part of the shooting, hunting, or outdoor trade (SHOT) industries? Are you head to SHOT Show 2016 in Las Vegas later this month? Don't wait to plan your trip to the tradeshow floor. Request a meeting with the BRM Technical Team, and get ready to find Made in America gun tools for shotguns, rifles, pistols, revolvers, and paintball guns.