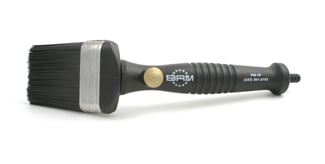 Do you need to clean auto parts such as oil pumps, wheels and wheel bearings, lug nuts, or engine and brake components? What about machined parts such as valves and gears?
Parts wash brushes from Brush Research Manufacturing (BRM) speed parts cleaning operations, saving you time and money. Their long-lasting synthetic filaments resist solvent-type cleaners, and these cost-effective cleaning tools are great for removing cutting fluids, machine oils, lubricants, grease, road grime, and dirt.
Types of Parts Wash Brushes
All BRM parts wash brushes are professional-grade tools, but what's the right cleaning brush for your specific application? For example, do you need parts wash brushes with straight or ergonomic handles? What about tools with flow-through support or flow-control? BRM parts wash brushes fit popular brands of recirculating parts washers, and there's even a soft-tip brush that's safe for delicate surfaces. By understanding the features and benefits of BRM's various cleaning tools, you can make the right choice.

Straight Handles and Ergonomic Handles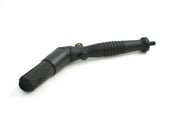 Parts wash brushes with straight handles provide leverage, control, and stability when you're cleaning auto parts above your head, or directly below you on the ground. Parts wash brushes with angled, ergonomic handles are designed to reduce operator wrist fatigue during auto parts cleaning.
Both types of brushes have handles made of injection-molded polypropylene plastic. These handles aren't just lightweight and corrosion-resistant. With their ribbed design, they're easy to grip and hold in your hand.
Scraper Ends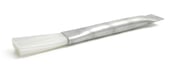 BRM also supplies a straight-handled parts wash brush with an aluminum scraper. This inexpensive but versatile brush is one of our most popular tools, and is available in a 3/4" width with a paintbrush-style design.
Use this light-weight cleaning tool for especially dirty jobs, and to remove paint chips or other debris from used auto parts and machined parts. Parts wash brushes with scraper ends don't have a flow-through handle, but BRM also supplies cleaning tools with flow-through support and flow-through control.
Flow-Control and Flow-Through Support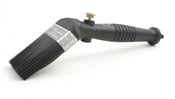 Some ergonomic parts wash brushes are equipped with a corrosion-resistant flow-control valve so that users can adjust the amount of cleaning fluid that's applied. Other BRM parts wash brushes are designed to support flow-through cleaning.
An optional 2-ft. tube is available that fits .500 and .600 outer diameter (OD) parts washer nozzles. Tube fittings are designed for use with Enco, KleerFlo, SafetyKleen, and other popular brands of circulating parts washers.
Soft-Tip Brushes and Brush Tip Styles

BRM parts wash brushes with soft tips are ideal for cleaning wheels and lug nuts, and are available with or without flow-through cleaning. Choose soft-tip brushes for tight, hard-to-reach spaces and for chrome, polished surfaces, and clear coats.
For cleaning larger areas, BRM supplies larger paintbrush-style cleaning tools. Parts wash brushes with smaller bullet-style tips are great for more focused cleaning. For example, the PW-4P brush is designed for automotive brake mechanics and won't mushroom.
Visit BRM at PRI 2015 (Booth #5513)
Do your tradeshow plan include a trip to the upcoming PRI Show in Indianapolis? From December 10 to 12, 2015, BRM will be at the Indianapolis Convention Center in Booth #5513. Come see our parts wash brushes for yourself, and learn all about BRM's full line of automotive surface finishing solutions.
Make the most of your PRI 2015 experience. Request a meeting with BRM today.