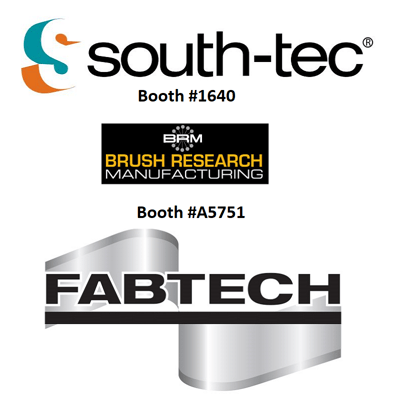 Brush Research Manufacturing (BRM), maker of Flex-Hone® tools and NamPower technology, will exhibit at SOUTH-TEC and FABTECH this fall. If you plan to attend these industry-leading events, don't miss your chance to meet BRM and solve your surface finishing challenges.
From October 24 to 26, BRM will showcase tools and technologies at SOUTH-TEC 2017 in Booth #1640 at the TD Convention Center in Greenville, South Carolina. Then, from November 6 to 9, you can meet Team BRM at FABTECH 2017 in Booth #A5751 at McCormick Place in Chicago.
There are plenty of reasons to visit BRM at these two tradeshows, but here are three that can help you save time and money.
Flex-Hone® Tools
BRM Flex-Hone® tools are flexible, resilient honing tools that remove burrs and improve cylinder wall surface finish at the same time. In addition to reducing labor costs, Flex-Hone® tools:
Help protect assets by optimizing lubrication and reducing friction
Reduce maintenance costs by reducing oil consumption
Increase performance by removing burrs that can cause part misalignments
Reduce cycle times through easy setups and rapid, efficient operations
Promote uniform surface quality and consistent finishing from part to part
Protect product value by decreasing finishing-related part problems
Flex-Hone® tools also meet application-specific requirements for industrial metals and harder materials.
NamPower Technology
NamPower is a family of nylon abrasive brushing tools for high-performance, cost-effective surface finishing and deburring. The benefits of NamPower technology include:
Maximum burr removal rates and optimum surface finishing – at the same time
Increased efficiency by eliminating time-consuming, manual operations
Making the most of your assets by integrating NamPower tools with your existing equipment
Consistency through automation – whether it's a Monday morning or a Friday afternoon
Securing a strong return on investment (ROI) through long-lasting, high-quality tools
Smaller sizes in abrasive discs for hard-to-reach spaces and planetary head mountings.
NamPower diamond wheels, a type of tool, polish and produce edge radii for parts made of harder materials.
Miniature Brush Kits
BRM also offers miniature deburring brushes in cost-effective kits. Whether it's for micro burr removal, surface preparation, internal cleaning, or rust removal, these metalworking tools for small holes support automation for faster operations. Plus, by choosing a kit, you can reduce your per-brush costs and try the technology before buying a larger quantity of tools.
Find Your Solution. Meet Our Technical Team.
When you meet BRM at SOUTH-TEC or FABTECH, you'll see videos of these and other products in action. You'll also have a chance to talk to our technical team. If you bring us your part drawings, we'll even recommend the right BRM tools for your application.
Can't make it to either show? Contact us on-line.