The BRM Official Blog is ending the year by looking back at how we've helped readers find solutions to surface finishing and deburring challenges.
As a full-line supplier of flexible honing tools and industrial brushes, we've covered plenty topics in 2016. Here are our Top 5 Blog Posts in terms of views.
Which Wire Wheel Brush Do You Need?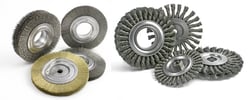 The BRM blog's most viewed post explained what manufacturers and metalworkers need to know about choosing and using wire wheel brushes. For example, readers learned that there are two basic wire wheel types: crimped and knotted. Both types of power brushes can be with grinding equipment or CNC machinery, but these wheel brushes differ in terms of uniformity and aggressiveness.
Surface Finishing Tips for Steel Wire Wheel Brushes
Wire wheel brushes come in various metal-filament types, but steel wire wheel brushes are a popular choice. In BRM's second most-viewed blog post of 2016, metal fabricators learned about twist types, filament length, fill density, brush speed, and direction. Importantly, readers also learned about key differences between wire wheel brushes with filaments made of carbon steel and stainless steel.
How to Deglaze Engine Cylinders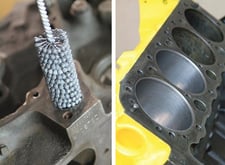 Blog posts about wheel brushes captured the top two spots, but blog entries about Flex-Hone® tools rounded out our Top 5 in terms of views. When the reciprocating movement of a car engine's pistons creates an overly smoothly surface finish, flexible honing is the ideal solution. Cylinder wall deglazing with the Flex-Hone® tool promotes optimum lubrication and supports proper piston ring seating and sealing.
Cylinder Deglazing for Motorcycle Engines
Automotive mechanics and do-it-yourselfers (DIYers) also liked learning about cylinder deglazing for motorcycle engines. With their soft cutting action, BRM's glaze-breaker hones improve surface finish while leaving the base metal undistributed. As our blog entry explained, however, it's important to understand which Flex-Hone® tools can be used with which metals.
Flexible Honing for Industrial Manufacturers
Visitors to the BRM Official Blog also liked learning about Flex-Hone® tools for applications such as removing burrs from cross-drilled holes and blending-in radiused ports. In addition to reading about Flex-Hone® features and benefits, manufacturers watched the Flex-Hone In-Machine Setup Video, an excellent source of information about how to automate finishing and deburring operations in a single step.
Tell Us What You'd Like to Read About in 2017
Thank you for visiting the BRM Official Blog throughout 2016. We hope you're enjoying your holiday season and that you're as excited as we are about New Year. What kinds of posts would you like to read about in 2017? Are you interested in specific tools, techniques, or materials?
Please comment on this blog entry or contact us with your ideas. Thank you!