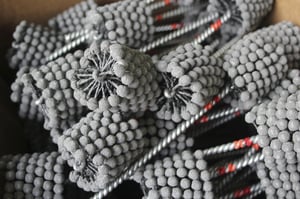 The Brush Research Manufacturing (BRM) Blog is ending the year by looking back at how we've helped readers find solutions to surface finishing challenges in 2017.
As a full-line manufacturer of flexible honing tools and industrial brushes, we've covered a variety of topics. Here are our Top 7 Blog Posts for the year.
1. Flex-Hone® Tips:

Cylinder Walls and Cross-Hatch Angles
The BRM's Blog's most-viewed post provided tool tips for Flex-Hone® selection and use. In addition to reading about stroke rate and tool diameter, readers learned why cylinder walls need a 45° cross-hatch angle for optimum engine lubrication and piston ring seating and sealing.
2. End Mills: Flute Polishing, Edge Radiusing, and Surface Finishing
End mills are cutting tools that require precise tool geometries and a superior surface finish. As this post explained, NamPower diamond abrasive wheels are a high-performance, cost-effective choice for flute polishing, edge radiusing, and surface improvement.
3. It's What Mechanics Want: BRM's 10-Piece Flex-Hone® Automotive Kit
In 2017, BRM began offering a special 10-piece Flex-Hone® kit that's ideal for automotive cylinders such as brake calipers, lifter bores, and U-joint yokes. As readers learned, this special 10-piece kit also contains Flex-Hone® oil, how-to-videos, and a premium BRM baseball cap.
4. Five Gun Maintenance Tips for Flex-Hone® for Firearms Tools
Flex-Hone® for Firearms tools remove residues, surface imperfections, and machining marks from any type or size of cylinder, slide, chamber, magazine tube, or smooth bore barrel. They don't require any special training or instruction, but these five tips can help shooters target surface finishing success.
5. Flexible Hones vs. Rigid Hones: Five Reasons to Use the Flex-Hone® Tool
Rigid hones are recommended for some metalworking applications, but flexible hones are the right choice for cylinders that don't require initial honing, resizing, or geometry correction. Beginning with training, equipment, and setups, there are five reasons to use Flex-Hone® tools instead of rigid hones.
6. Which Small-Diameter Flex-Hone® Do You Need?
Small-diameter Flex-Hone® tools impart the optimum surface finish to small-diameter cylinders. These metalworking tools can also remove burrs from cross-drilled holes. Bore size is important during tool selection, but remember to consider the base material and the amount of work to perform, too.
7. Gear Deburring and Surface Finishing with NamPower Wheel Brushes
Gear manufacturers need to meet tough requirements for dimensional accuracy, tooth spacing, and gear form. For gear deburring and surface finishing, NamPower wheel brushes are a smart choice. For gear manufacturers who want to know more about these tools, beginning with some basics is a smart approach.
What Would You Like to Read About in 2018?
The year 2017 is almost finished. What kind of BRM blog posts would like to read in 2018? BRM wishes you a Happy New Year, and invites you to tell us more about your surface finishing needs in the year ahead.