The Brush Research Manufacturing (BRM) Blog is ending the year by looking back at how we've helped readers find solutions to surface finishing challenges.
As a full-line manufacturer of flexible honing tools and industrial brushes, we've covered plenty of topics in 2015. Here are our Top 5 Blog Posts for the year. We hope you'll enjoy this look back, and we look forward to sharing more great content with you in 2016.
Flexible Honing for Industrial Manufacturers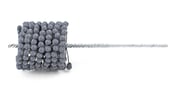 The BRM's blog's most-viewed post provided manufacturers with a powerful overview of Flex-Hone® features and benefits. For example, readers learned that flexible cylinder hones are available in 8 different abrasive types and 11 grit sizes, and in tool diameters ranging from 4mm to 36".
Manufacturers also read about how flexible hones can achieve very specific surface finishes for even the tightest of finishing tolerances. Finally, this blog entry showcased BRM's always-popular Flex-Hone® In-Machine Video. If you're thinking about automated deburring and surface finishing, this is a must-see video.
How to Resurface Brake Rotors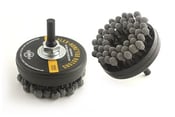 Flex-Hone® technology is so powerful that mechanics also use BRM surface finishing tools to meet tough challenges. For resurfacing brake rotors and automotive flywheels, the Flex-Hone® for Rotors is the tool of choice for tuners like John Ambrosio.
With John's permission, BRM blogged about his project and even created a video (our most popular new video of 2015) with pictures that showed how he resurfaced four rusty rotors from an M2/AP racing kit. The non-directional finish that the Flex-Hone® for Rotors imparts also helps embed new brake pads.
Cylinder Deglazing for Motorcycle Engines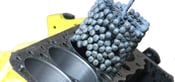 Part of the power of Flex-Hone® technology is versatility. Flexible honing tools for engines don't just improve surface finish. As this blog entry explains, BRM engine hones remove burrs and brake the "glaze" that forms on cylinder walls from the reciprocating movement of the pistons.
Flex-Hone® tools aren't just used with car and truck engines either. That's why when a motorcyclist messaged us about cylinder deglazing, our Technical Team asked for details and recommended an aluminum oxide Flex-Hone® for deglazing his bike's Nikasil cylinders.
Surface Finishing Tips for Steel Wire Wheel Brushes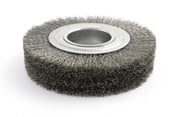 Metal fabricators use BRM's steel wire wheel brushes for surface preparation, surface finishing, burr removal, weld cleaning, and rust and oxide removal. Steel wire wheels remove surface imperfections without changing part dimensions, but what do fabricators need to know about brush selection and use?
As this blog entry from 2015 explains, buyers need to specify fill materials, twist types, filament length, and fill density. Importantly, power brush users also need to apply the right speed and pressure. There are special considerations for stainless steel brushing tools, too.
Diamond Tools for Surface Finishing and Deburring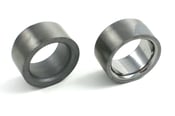 As a full-line supplier of surface finishing and deburring solutions, Brush Research Manufacturing (BRM) provides Diamond Flex-Hone® tools, NamPower diamond wheel brushes, and miniature diamond deburring brushes for harder materials such as CBN, ceramic, carbide, diamond, hardened tool steel, and glass.
Which type of BRM diamond tool is right for your application? What are the features, benefits, and applications for each. In this final top-five blog entry from 2015, we explain.
What Would You Like to Read About in 2016?
The year 2015 is almost finished, and 2016 is just a few days away. What kind of BRM blog posts would like see in 2016? Are you interested in Flex-Hone® tools, NamPower technology, industrial and automotive brushes – or all of the above? BRM wishes you a Happy New Year, and hopes you'll tell us more about your surface finishing needs in the year ahead.